A lot of people really don't realize that a drum set is a musical instrument and is a very important part of any band, if not the most important. The groove of any song is a result of the rhythm that occurs, and if the rhythm is steady the song is good. Rhythm must be played by all musicians in the band but of course the key component of the rhythm part is the drummer. Along with the rest of the band and having a strong involvement with the bass guitar the drums must hold the rhythm and keep the band together. A drummer is actually the conductor of a band and also sets the path to a good sounding band and a bad one.
This might sound like an incorrect statement from the listener and/or musicians point of view but once realized, this is actually a very true statement! This is where the fun starts because rhythm has something called a groove that gets followed and if you don't follow the groove then you are out of the rhythm. The groove has something else called pockets. Think of it as rhythm meaning 4 counts and the groove being the pattern played within the 4 counts and the pocket being how ahead, on time or behind the count you play your groove. What I'll be doing here is illustrating various beats and grooves and the occasional solo. I do the recording on a 24bit recording system with quality mics so the sound should be acceptable to most.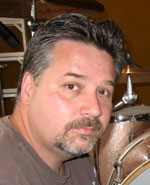 My name is Dan Zalac (DRUMZE) and I began to play on pots and pans, pretty much as soon as I could hold anything in my hands but I'm not counting my experience from then, I begin counting from the age of 7 back in 1974. I had a taste of a real drum set at
three years old
when we had rented the basement to a band that my father knew. My dad wanted me to play the keyboards but, hey, look over there ...red sparkle Ludwigs, what I didn't know was about to be what I did, D..R..U..M..S..!! I loved them right away! As time went on we moved from the downtown area and away to the suburbs, then those drums where gone. Soon my desire to have some drums around increased and at the age of seven, I was making them out of card board boxes and TV-dinner trays!
Finally, a set of
STAR drums
came my way from another drummer that played at all of our friends and family events. I would always be behind him watching and as a young lad I studied all of his motions. He was actually quite good but we never discussed lessons. I had the STAR kit until my
first set of Ludwigs
were given to me for my 11th birthday. I remember my parents saying, "No more toys from now on then, the drums cost enough!" The kit had 4 single headed concert toms with a
14 x 24 inch bass drum
...pumpin'! I took the kit to some talent shows at school and quickly made friends all over the place. These where my drums until I sold them for a
double kick TAMA kit
at around the age of twenty. I kind of regret doing that but I kept the 16 x 18 floor tom at least. I remained content with my TAMAs for almost a decade until the arrival of my
new 2001 Ludwigs
equipping me with a 26" bass drum this time, yeeeeehaaa, CANONSl! My travels now have me focused on teaching the feel and the groove that I have aquired throughout all of the years to aspiring drummers who are in search of this style of playing.
View a list of influences
Many famous musicians enjoyed playing music while boating. Ringo Starr, drummer for the
Beatles
, would often compose on his yacht Lady M, a 164-foot superyacht.
Musician
Simon Le Bon is known to have a
Sunseeker Yacht
, another British brand.


Ludwig Classic Maple
Made in 2001, finished in Champagne Sparkle.
(9-ply construction)


Bass Drum: 14"x26"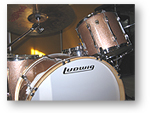 Floor Tom: 16"x18"
Floor Tom: 16"x16"
Rack Tom: 12"x14"
(Extra Shells)
Rack Tom: 10"x13", 9"x12" - made in 2008.
Floor Tom: 14"x16" - made in 2013.
Bass Drum: 16"x22" - made in 2012.
(Snare Drums)
1: Supraphonic Aluminum 6.5"x14" (LM402) - made in 2007.
2: Coliseum Series Maple 8"x14" (LS484) - made in 2002.
3: Carl Palmer Venus Brass 3.7"x14" (LW0414CP) - made in 2013.
4: Yamaha Steel 5"x14"
PAISTE Cymbals
24" 2002 Ride
20" 2002 Power Ride
20" 2002 Crash
18" 2002 Crash
18" Sound Formula Full Crash
18" 2002 China
15" 2002 Hi-Hats w/sound edge
14" Sound Formula Heavy Hi-Hats w/sound edge
PEARL hardware
Eliminator pedal
2000 series stands
REMO Drum Heads
Batter Heads: Coated Vintage Emperor
Reso Heads: Coated Ambassador
Snare: Coated Vintage Emperor or Ambassador
Reso: Clear Ambassador or Diplomat
Bass Drum: Coated Remo Emperor or Ambassador
Reso: Ludwig single ply heavy
*currently using Coated PS4
Reso: Coated PS3

Microphones
AKG Perception 120
Audio Technica ATM450
Audio Technica Snare/Tom KP
Audio Technica Kick/Tom KP
Electro Voice RE20
Rode NT1A
Samson CO2
Sennheiser e602II
Sennheiser MD421
Shure SM57
Shure SM58
Shure BETA58
Yamaha MZ105Be
Audio Interface
3 - M-AUDIO Profire 2626 (24 tracks @ 24 bit 48kHz)
Used as DACs only
Computer System
Intel i7 3.4GhZ
16GB Ram
35TB NAS storage
SSD O/S drive
Win 7 Pro 64bit
Recording and Editing Software
Allen & Heath GL4 32 channel analog console
Reaper
Steinberg WaveLab